AmCham hosts author Dr. Sandy Shugart for conversation with members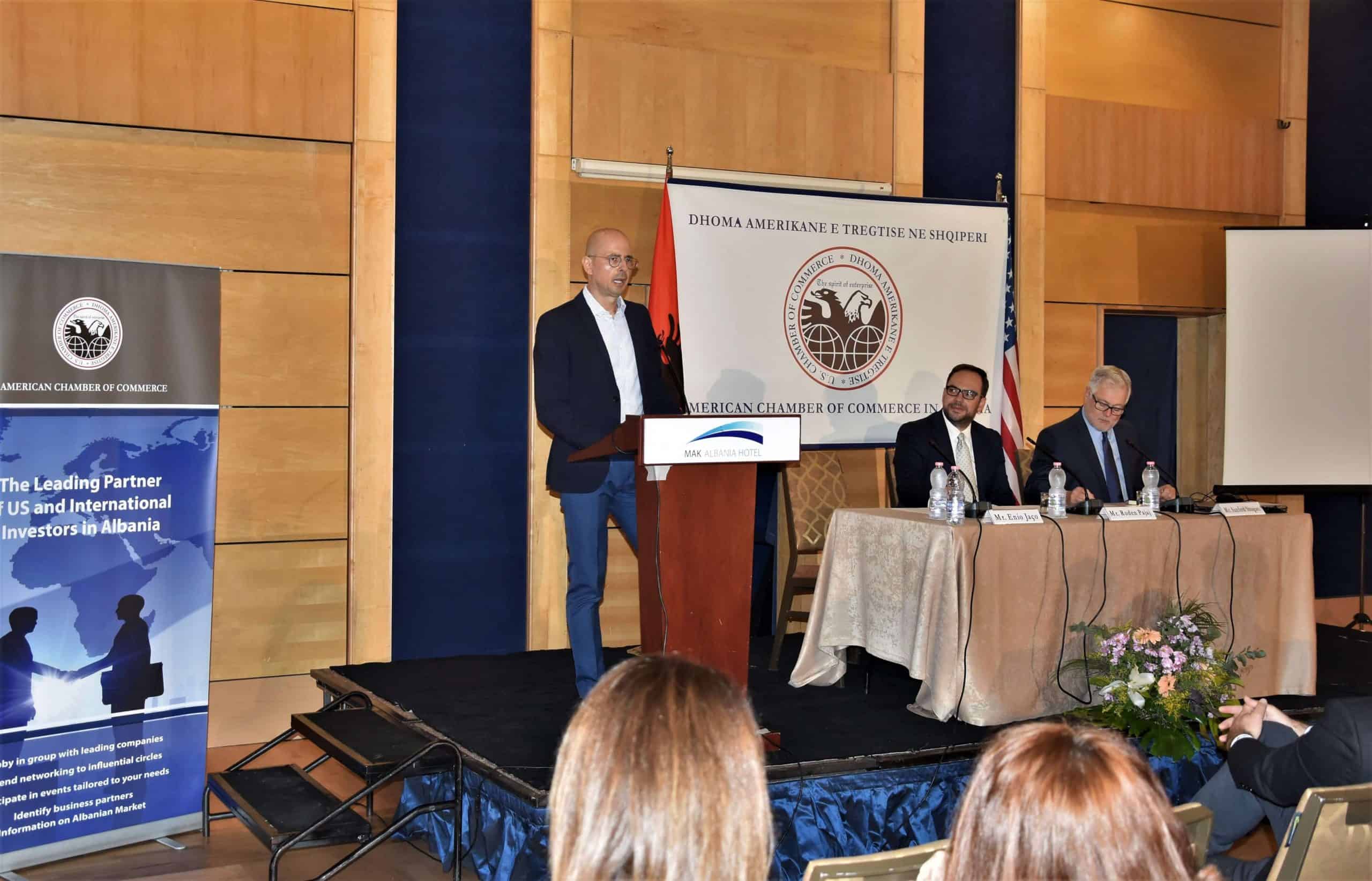 Leadership in the Crucible of Work
The American Chamber of Commerce in Albania has introduced its members, company leaders in particular, to a prominent American author and businessman — Dr. Sandy Shugart — who through his book has brought valuable insights into how new business leaders can, through the power of communication and understanding, solve complicated business situations.
The Leadership Club Forum event had two important sessions based on Dr. Shugart's book "Leadership in the Crucible of Work."
Introducing Dr. Shugart to members, AmCham President Enio Jaco said: "I don't know if you have had a chance to read his CV, it's a hybrid between a CV and a bio. Very interesting, he is a poet and writer, he is an artist but also a businessman. That's usually a rare combination, and his work speaks for itself." President Jaco then listed the awards and honors Dr. Shugart has received during his career, including being named as one of the most influential businessmen in America in 2011, according to the Orlando Business Journal. Under his leadership, Valencia College was awarded the first Aspen Institute Award for Excellence. AmCham's Labor and Ethics Committee has professional development as part of its annual program as well as a priority, so Dr. Schugart's book helped address the issues that inevitably link business development with education.
Labor and Ethics Committee Chairman Roden Pajaj spoke about the work the committee has undertaken in the area of training to develop leadership with the latest techniques of organizational behavior. Dr. Shugart's book is a great tool to do so, because it deals with the journey of developing a leader who has a positive impact on others, especially during difficult times.
Even though Dr. Shugart's books is largely unknown in Albania, the AmCham event served as a jumping point to publicize its teachings with the right audience as it also involved representatives of universities and other  educational institutions that can benefit directly from the book's guidance.
"For leaders living in an imperfect  and broken world, work turns out to be a sort of crucible, a place where they experience the heat, pressure and erosion of elevated responsibility, and certainly in Albania we find ourselves many times living in an imperfect world, of course, with all sorts of different pressures," President Jaco said, quoting from the book, noting that that theme in the book resonated in Albania a little more than anything else.
The themes of the book were broken down into smaller elements during the discussion, with participants being drawn to Dr. Shugart's narrative — often filled with poetry — that explained that the essence of the book could be summarized in the following way: "Authentic leadership requires internal work." Dr. Shugart compared pressure-filled conditions within organizations with crucible that can result in a positive transformation when leaders do the needed internal work.