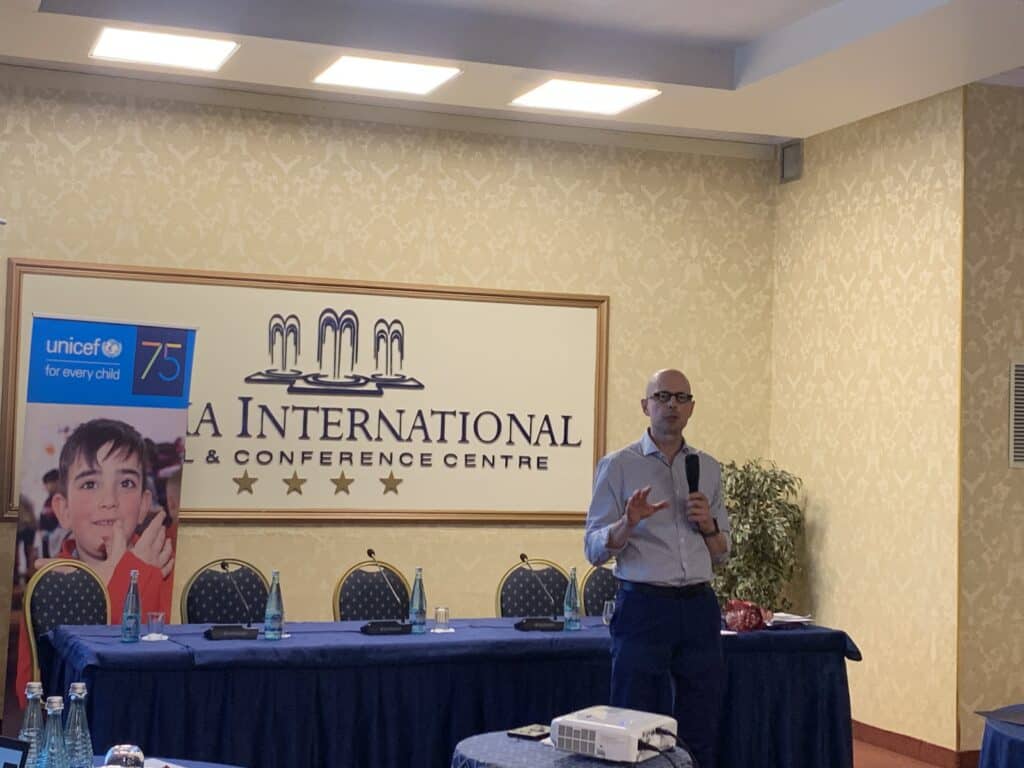 UNICEF and AmCham find common ground in their work in Albania when it comes to young people and their professional training. In an event organized by UNICEF with a focus on young people, their protection and the creation of a suitable environment for development, AmCham Albania President Enio Jaco took part by bringing organizational experience in working with young people and how to properly guide them for success in the labor market. The UNICEF Albania meeting was part of the evaluation of the work done in the first six months of the year and also focused on the priorities for the rest of the year, seeking the cooperation of institutions that can partner with UNICEF to bring an impact on the development of the next generation.
The event's agenda included the creation of a working group by AmCham and UNICEF Albania that will help develop sustainable entrepreneurship skills for young people, helping them in their future careers. AmCham President Jaco's and Business Relations Manager Arian Leco's participation in the event aimed at supporting that idea and developing a concrete plan for future cooperation.
In his remarks, Mr. Jaco, made a presentation about AmCham's basic work pillars: Networking, advocacy, training and the work that is done to monitor the business climate through the Business Index, which has revealed the issue of the decline of the workforce and the lack of skills in the labor market.
"This cooperation can be a very good opportunity to move forward together, taking care that young people build a future in our country, and not leave Albania. The market needs young people, because they are faster and easier to mold. We have many big challenges to achieve the goal of these young people not leaving the country. The departure of talented young people is a major problem for all businesses and we invite UNICEF ​​to address this challenge and collaborate in order to meet it," Mr. Jaco said in his remarks.
AmCham, based on the work of its HR Committee and the programs it implements, will engage in this new form of cooperation to build successful programs that will help prominent young people be introduced to the country's elite businesses, members of the AmCham.
The cooperation with AmCham Albania was also welcomed by Roberto de Bernardi, UNICEF Representative to Albania, who expressed his optimism regarding this opportunity. Through its policies, UNICEF tries to influence and cooperates with the Ministry of Youth on the creation of a strategy for young people. During the meeting, a presentation was also made by the young attendees about the skills they get at school and the ones they lack.