(TONY'S) TG INTERNATIONAL
Representative: Tonet Xhoga
Membership: Big Business
Address: Rr. Sami Frashëri, Pallati NOBIS, Tirana
Contact: [email protected]
Website: https://www.tonys.al
Main Business Activity: Hospitality (Restaurant – Catering).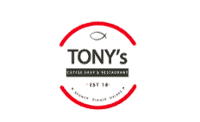 Company Overview: TONY's operates in the HoReCa sector providing American food and products deliver catering and has become a meeting place for expats, diplomats and locals in Tirana.