Starnet Sh.p.k.
Representative: Dritan Vreshta
Membership: Small Business & NGOs
Address: Rr. Dritan Hoxha, Ndërtesa 203, Kodi Postar 1023, Tirana
Contact: [email protected]
Website: https://www.starnet.al
Main Business Activity: Internet Service Provider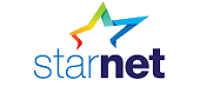 Company Overview: Starnet is a well-established Wireless Internet Service Provider with more than 14 years of experience in providing wireless internet connectivity. Based in Tirana, Albania, Starnet offers services all over the country in various areas, including seaside, cities, and rural areas. To provide the best services in such a diverse environment, Starnet is always looking for the most modern and innovative technology.