NOA Sh.a.
Representative: Herjola Spahiu
Membership: Big Business
Address: Komuna e Parisit, Rruga "Tish Daia", Kompleksi "Haxhiu", ND. 32, H. 12, Tirana
Contact: [email protected]
Website: https://www.noafin.al
Main Business Activity: It includes all forms of lending, payments and money transfer services, provides guarantees, exchange services and insurance agents.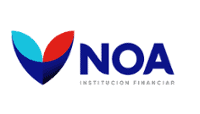 Company Overview: Since its establishment back in 1998, NOA Company, through its dedication and professional service, has provided a very important contribution to the establishment and development of small and medium-sized businesses via financially supporting their needs and plans. NOA Sh.a, being a financial institution, operates in the micro-finance market sharing a unique infrastructure and operational model. This performance model, product of a professional and well-trained staff, centralized approval procedure and high processing efficiency, has led to the creation of a credit portfolio with high quality.