Matrix Konstruksion
Representative: Daniela Leskaj
Membership: Patron
Address: Rr. Nikolla Jorga, Godina 18/2, Tirana
Contact: [email protected]
Website: https://www.matrixkonstruksion.com
Main Business Activity: Construction and Design; Property Development and Real Estate; Investments in Tourism and Renewable Energy; EPC.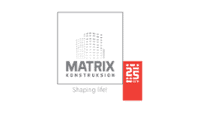 Company Overview: Matrix Konstruksion is one of the biggest construction and development companies in Albania. The Company was created in October 1995 in Tirana. Matrix Konstruksion's mission is to design and develop high quality residential, socio-cultural and commercial buildings, civil infrastructure projects; to invest in tourism and renewable energy; thus, positively transforming people's lives.