GSL Enterprise Support Sh.p.k.
Representative: Blerti Lekbello
Membership: Small Business & NGOs
Address: Bulevardi "Bajram Curri", European Trade Center (ETC), Kati 12, Tirana
Contact: [email protected]
Website: https://www.gslsupport.com
Main Business Activity: Staff Leasing. Human Resources. Outsourcing/ Offshore Services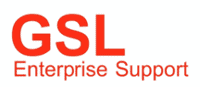 Company Overview: GSL Enterprise Support is a provider of Outsourced Staffing Solutions, based in Tirana, serving businesses as an outsourced human resources department as a very flexible and cost-effective business model. They build teams from as small as one to one hundred. GSL offers Staff Leasing and Staffing services by providing full-time dedicated staff in Albania or virtual employees working from private officers in Tirana for overseas businesses in U.S. Staff leasing covers the practice of hiring an employee on a temporary basis for an indefinite period of time without the use of a temporary staffing agency. Staff leasing often allows an organization to be flexible about the length of contract terms for various job positions. This practice is used across multiple industries and organization sizes. Clients also have the possibility to work directly in the office with their dedicated leased staff.