FAVINA Sh.p.k.
Representative: Viktor Qylafi
Membership: Big Business
Address: Rr. Anastas Lakce (Kompleksi Favina), Lagjja 18, Nr. 5, Korçë
Contact: [email protected]
Website: https://www.favina.net
Main Business Activity: Construction, Construction Materials Production, Energy Supply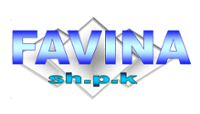 Company Overview: Favina Company Ltd. is a Construction Company (as a main activity) and also involved in Hydropower field, located in Korce town. Favina was officially created in 1995, but its activity started earlier since 1990, trading with our neighbor countries like Greece, Macedonia Bulgaria, Hungary and Italy. In 1995, Favina owned the Quarry in Lumalas for the production of the solid materials (inert). Favina Company Ltd. is a leader in the construction field in our area, with the production of granulated stones, concrete line, building apartments and Hydro-power stations investments.