Dekon Frigo Sh.p.k.
Representative: Leonard Gugu
Membership: Patron
Address: Komuna Bradashesh, Elbasan
Contact: [email protected]
Main Business Activity: Wholesales, Distribution and Retail. Import of Frozen Food.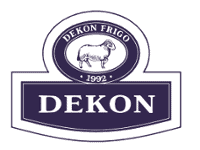 Company Overview: DEKON FRIGO is a company that specializes in the import, distribution, packaging and processing of meat products. It was part of the CAMPO FRIO group, established in 1992. Later, in 2007, the company DEKON FRIGO was established and it was possible to invest in the construction of refrigeration storage and processing rooms with a refrigeration capacity of 1200 tonnes, covering an area of 6000 m2. The technology used in the construction of refrigeration rooms and equipment is in accordance with European standards, in particular Italian standards. The company is certified according to the Hygienic-Sanitary Self-Control System H.A.C.C.P UNI 10854: 1999. DEKON FRIGO is one of the leading import companies in the chicken, beef and pork products industry. The portfolio products of the company are of US and EU origin. DEKON FRIGO has a wide range of foodstuffs for HORECA and supermarkets and provides the raw materials for meat products. The distribution network covers the entire territory of Albania and also owns several retail and wholesale stores. The long experience, the consolidated logistics system and the efficiency of the qualified and motivated staff have given DEKON FRIGO the colors of a professional and reliable partner on the Albanian market.