British American Tobacco Albania Sh.p.k.
Representative: Brunilda Bakiri
Membership: Patron
Address: Rr. e Kavajës, Ish Kombinati Ushqimor, Tirana
Contact: [email protected]
Website: https://www.bat.com
Main Business Activity: Import, Wholesale and Retail of Cigarettes and Other Tobacco Products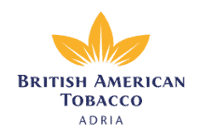 Company Overview: British American Tobacco is a truly global company and market leader in more than 55 countries. Today, we are a multi-category tobacco and nicotine products business with potentially reduced-risk products embedded into the heart of our company, alongside our cigarette operations. Our ambition is to transform tobacco by offering adult consumers potentially reduced-risk products.