"Standing Together on IP Rights" Roundtable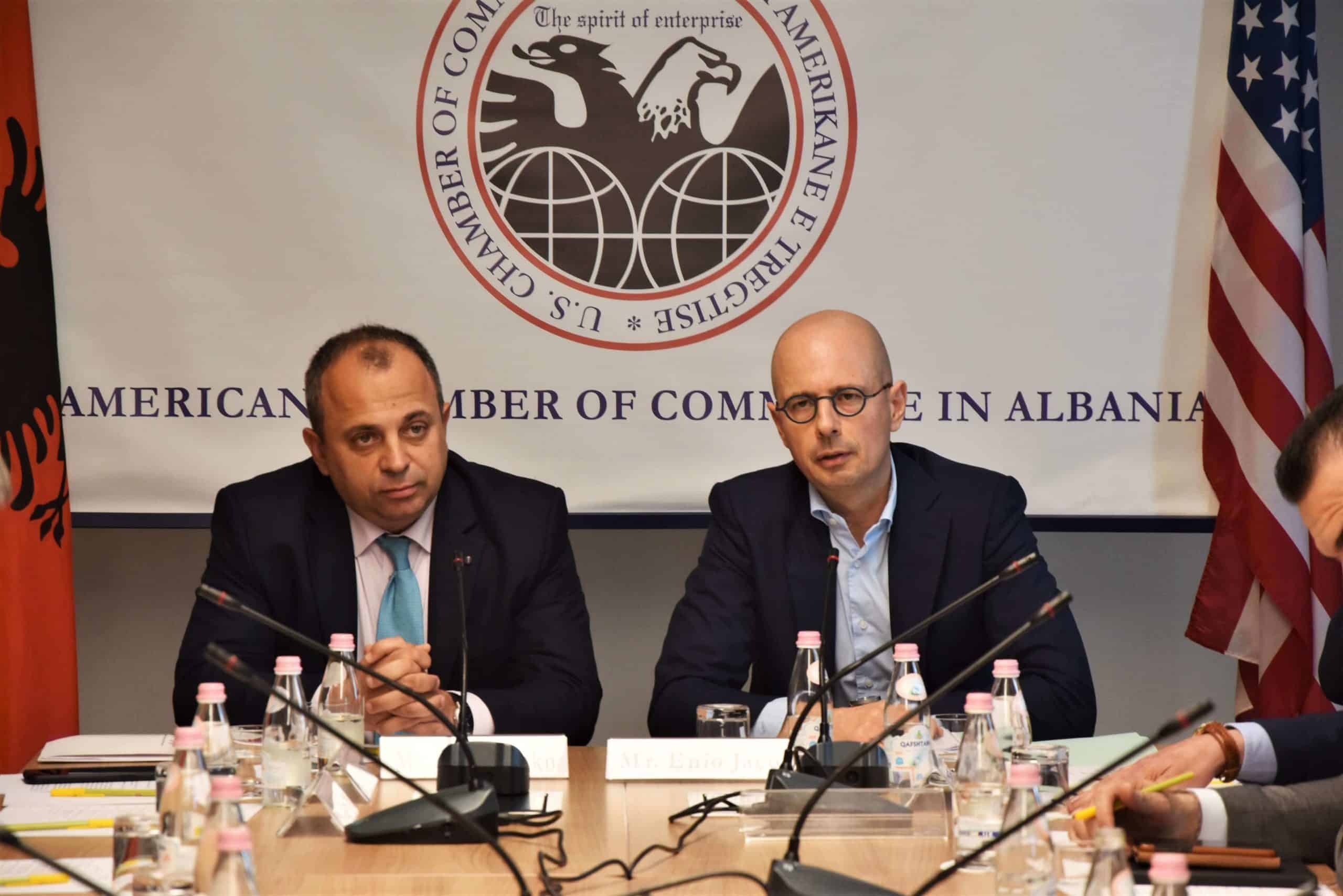 AmCham Albania speaks with stakeholders on the protection of Intellectual Property RightsThe American Chamber of Commerce in Albania organized a round table where the most important line institutions responsible of intellectual and industrial property rights were invited. Over the years, AmCham has organized regular meetings with key institutions that coordinated their work to better reach the goal of improving the IP situation in the domestic market.The President of the American Chamber of Commerce, Mr. Enio Jaço appreciated the cooperation of the institutions in creating a stable market while at the same time asked for their commitment and collaboration to create an adequate climate to guarantee the implementation of intellectual property rights. Representatives of line institutions and AmCham members had the chance to discuss on trademark and patents, the ban of piracy, inspection process and enforcement of the Law Inspectorate."AmCham will focus on strengthening lobbying efforts for the improvement of the legal framework that protects industrial property rights, mainly on Market Inspection Law, cooperation with the National Food Authority Inspectorate, as one of the Inspectorates that broadly monitors the market and controls business operations in the market."
Director of Industrial Property Directorate, Mr. Elvin Lako explained in high level how the Directorate functions in registering and controlling trademarks and patents in Albania, both from the legal and practical point of view. ''We have conducted individual visits in every business and enterprise to explain the registration of trademarks and patents and the obligations and rights deriving from the Law are a way of institutional cooperation," – stated Mr. Lako.Mr. Kledi Kodra, Chairman of the Legal, Regulatory & IPR Committee spoke about the work done so far to follow up the protection of intellectual rights from Customs Directorate, which is the gateway to the domestic market, to market inspections and the right implementation of Copyright. "Activating the stakeholders group as an opportunity to clearly address all members issues that will help AmCham to find the right channels to handle these issues," said Mr. Kodra.The customs representative, Mr. Arbër Habili, explained the work of the directorate to prevent piracy and fake products entering the market. "Only 10 percent of goods entering the market are subject to physical control, and this is followed by strong business pressure not to create more bureaucracy in the Customs. It creates a difficult situation for the Intellectual Property Directorate to ascertain any fake product entering the market," said Mr. Habili.Mr. Neritan Frashëri from the Market Surveillance Inspectorate stated the level of inspections and controls delivered in the market, especially with regard to the software industry. 'There were around 386 controls in the market during 2018, and only 5 of them were oriented by the complaints that businesses have had," said Mr. Neritan Frashëri seeking business cooperation.
Director of Copyright at the Ministry of Culture, Mr. Sofjan Jaupaj, explained the role of this directorate in enabling the rigorous implementation of Copyright in all institutions responsible for market monitoring.
This stakeholder group meeting is in the wake of the meetings that AmCham started in 2019 with all line institutions. The national IPR Conference will revitalize and will focus on the issues of Market Inspection Law enforcement.