TETRA SOLUTIONS SH.P.K.
Representative: Genci Likoskëndaj
Membership: Big Business
Address: Rruga "Gjin Bue Shpata", Pallati 2/1, Ap. 2, Njesia Bashkiake Nr. 5, Tirana
Contact: [email protected]
Website: https://www.tetra.al
Main Business Activity: : Information Technology. Automatic Parking Systems. Electric Vehicle Charging Solutions. Access Control Solutions. IT & Programming.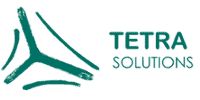 Company Overview: TETRA Solutions is the leading company in the field of Smart City Solutions with a wide range of products covering all the needs of Albanian market in "Automated Parking Solutions"; "Electrical Cars Charging"; "Access Control Solutions". They provide years of consulting, creation, implementation, support and training of users thanks to their expert staff consisting of electronic engineers, business consultants, system integrator, application developers, network and system engineers, security instructors. They have 15+ years of experience and as of today they count 50+ installed and operational Parking Systems; 60+ EV Chargers.