ETS Sh.p.k.
Representative: Fatos Aliaj
Membership: Patron
Address: Rruga Jordan Misja ish Magazinat e UMB, përballë shtypshkronjës Demokracia, Tirana
Contact: [email protected]
Website: https://www.ets-al.com
Business Sector: Construction;Energy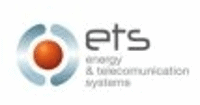 Overview: ETS Company was established in 2001, with its activity throughout Albania. The purpose of the ETS establishment in Albania was to provide alternatives to the uninterrupted provision of electricity supplies to power corporation, various government institutions and public service companies. Main activity ETS Shpk is in the field of power supply with electrical equipment and works for low, medium and high voltage.