ELLER Sh.p.k.
Representative: Irina Mema
Membership: Big Business
Address: Rruga Hamdi Sina, Kompleksi Bora, Ndërtesa Nr. 3, Suite Nr.11, Tirana
Contact: [email protected]
Website: https://www.eller.al
Main Business Activity: Consulting. Transaction Advisory (Business Valuation, Financial Modeling and M&A Consulting). Investment Management Consulting. Cryptocurrency Advisory. Litigation/Arbitration Support.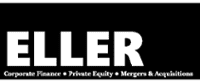 Company Overview: Eller is a premier consulting firm serving U.S. and local clients with corporate finance, private equity, and transaction advisory services. Eller's professionals have advised on deals in aggregate of over $50 billion, and have served as trusted partners to large multinational firms in the areas of business valuation, litigation support, and investments. At Eller, we share the values of Leadership, Excellence, and Client Focus. These values are our guiding principles and provide us with clear direction when making business decisions and serving our clients.