Albpastrim Sh.p.k.
Representative: Valbona Begolli
Membership: Big Businesses
Address: Rr. Tish Daija, Kompleksi Kika, Shkalla 6, Ap. 1, Kodi Postar 1023, Tirana
Contact: [email protected]
Website: https://www.albgroup.al
Main Business Activity: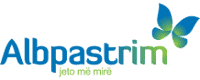 Company Overview: Albpastrim is a professional cleaning company that operates in the maintenance and administration of common indoor and outdoor spaces of different buildings, companies, institutions, schools, hospitals, etc. By utilizing every source, the company brings the best product and service to grow constantly in a competitive market.